The Hirsch & Westheimer litigation group enjoys a complementary blend of seasoned veterans and aggressive young professionals earning their stripes in the rough and tumble litigation environment. Any commercial situation that you can imagine has probably been litigated by a Hirsch & Westheimer lawyer.
Our record of success stems from carefully constructed game plans designed to help you evaluate risk and de-mystify the courthouse maze, charting the most cost effective path to achieve your goals.
We are result oriented and work to avoid litigation delays. Our objective is early case disposition, whether by settlement, trial or alternative dispute resolution.
Our experience covers a broad range of commercial and business tort litigation, and includes banking and financial industry issues, trusts and estates, construction, oil and gas, employment, and bankruptcy, as well as the diverse needs of our other commercial and individual clients.
Our lawyers are equipped to handle matters ranging from complex multiparty corporate cases to individual suits, as well as high volume dockets for institutional clients.
PRACTICE CONTACTS:


Rupert F. Barron
713-220-9172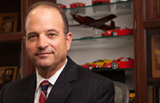 Eric S. Lipper
713-220-9181

Michael F. Hord, Jr.
713-220-9182